Jason Noye Bricklaying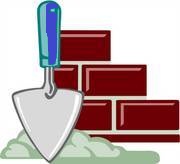 This sponsor could hardly be closer to our club: Jason built our canteen/clubhouse building, has worked on many other bricklaying projects for the Comets and was the Club President from 2011 to 2017. Jason has been a senior player and coach with us for many years now, and he'd certainly be happy to hear about any bricklaying jobs you might want done.
You can catch him around the clubhouse on most playing days or give him a bell on 0412 062 834. Say gidday!
© 2011 Comets Baseball Club Inc
. Design by
GongOnline
.